Hiring New Role: Revenue Operations Manager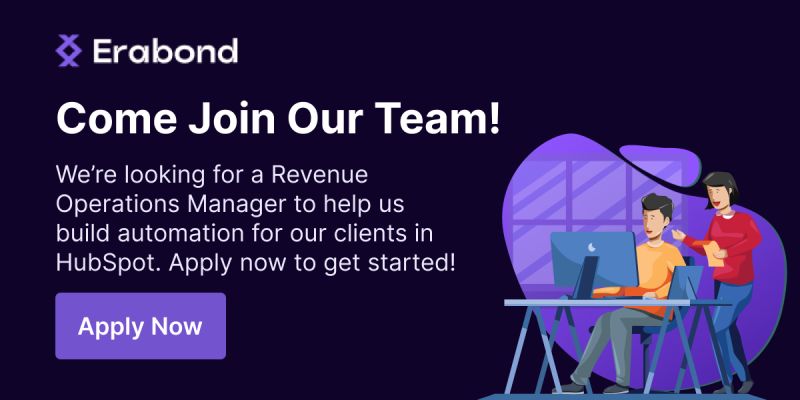 Erabond is looking for an HubSpot Manager with 1 to 3 years experience to help with multiple HubSpot setup and maintenance projects with predetermined tasks and standard operating procedures. The ideal candidate must be able to follow designed company processes while thinking outside the box to solve problems. We are looking for a partner we can grow with as we continue to grow our business.
About Erabond
Erabond is a HubSpot consulting company founded in 2020 that creates sales and marketing automation that accelerates revenue growth for SaaS startups and informational products. We excel at building complex integrations and reporting that drive higher ROI, pipeline velocity, and reduce churn. Clients love us for our creative problem-solving, reliability, and emphasis on long-term partnerships.
We Believe Automation Should Drastically Improve Freedom, Wealth, and Quality of Life.
Erabond was built to help founders build businesses that are predictable to improve the lives of owners and their employees. We focus on answering the questions on how automation can improve sales, marketing, and service so we can show up more energetic and excited for our work and lives.
We Plan to Build 1,000 Lasting CRMs by 2027.
Erabond's goal is to create 1,000 CRMs that stand the test of time and help high-growth startups grow better than they could imagine. With the right CRMs, owners can automate roles and ensure their teams succeed with as little stress as possible.
Duties and Requirements for the Marketing Operations Specialist Role
Responsibilities
Creating solutions in HubSpot for our clients, including workflows, reports, dashboards, and automations.

Managing internal tickets throughout the entire pipeline.

Improve internal processes and operations in internal HubSpot.

Consuming and creating documentation to level up the skill set and scalability of yourself and the company as a whole.

Communication with clients including email, slack, and video conferencing

Managing client expectations and projects

Attend regular meetings and communicate clearly with all staff to ensure deadlines and expectations are met.
Skills and Requirements

A strong embodiment of our Company Values.

An affinity for data and the benefits of making decisions based on analysis.

1-4 Years of HubSpot experience.

Excellent time management and communication skills.

Ability to confront challenges with a calm and focused drive.

An attitude of learning and growing.

Experience using a project management tool consistently.

Comfortable working out of HubSpot internally.

Experience creating reports & dashboards in HubSpot.

Experience problem-solving using HubSpot workflows.

Experience managing complex email sequences, including loading emails & using workflows.

Experience managing properties on contacts, companies, and deals.

Experience creating pipelines & managing forecast percentage.

Experience creating product libraries based on specifications.

Experience creating data hygiene workflows.

Experience communicating clearly with clients.
Our Values
It's always difficult to sum up a company and its culture in just a few short words, but if you want to know who we are and if you would be a good fit, this is the place to start!
Trust is Everything
Finding the moments to stay true to our word and show integrity are the most important aspects of our business.
Examples of living this value include the following:
Researching how to execute a task in HubSpot before promising it to a client.

Treating every communication and deadline with a client or prospect as a promise we will be held to.

Keeping our word as our bond.

Admitting to clients when we have made a mistake and developing an action plan
Return on Relationships
People are the only reason we are in business. We respect our relationships by providing massive returns on investment for their trust. We always reciprocate with more than was given.
Examples of living this value include the following:
Telling potential clients when we are not the right partner to move forward with and referring them to someone better suited.

Asking for feedback after every project to ensure we are helping.

Checking in on our clients like we would our friends.
Leave Everything Better
Many technology partners will build a poorly made solution and move on with cash in hand. That will never be us. We prioritize creating lasting solutions that outlive and potentially replace us if that is what is right for the client.
Examples of living this value include the following:
Quality assuring our work and cross-referencing our colleague's work to ensure nothing is missed

Building a more reliable and longer-lasting solution, even if it takes more time and is less profitable than the short band-aid fix.

Setting up notifications to check errors and be on top of them before any issues occur.
Attract Abundance
We do not deal in scarcity. We focus on collecting as much opportunity out there so that we can make ripples in our communities that generate wealth, opportunity, and happiness.
Examples of living this value include the following:
Making strong business cases for new opportunities that can bring in revenue.

Looking for new opportunities to learn around every corner.

Asking for software, help, or even adjustments to your work schedule to help you succeed.

Pitching the highest level of service we are capable of providing.
Salary information: The estimated bse salary range for this position is $60,000 - 75,000 USD, and this position may also be eligible for variable compensation. Actual compensation is based on factors such as the candidate's skills, qualifications, and experience.